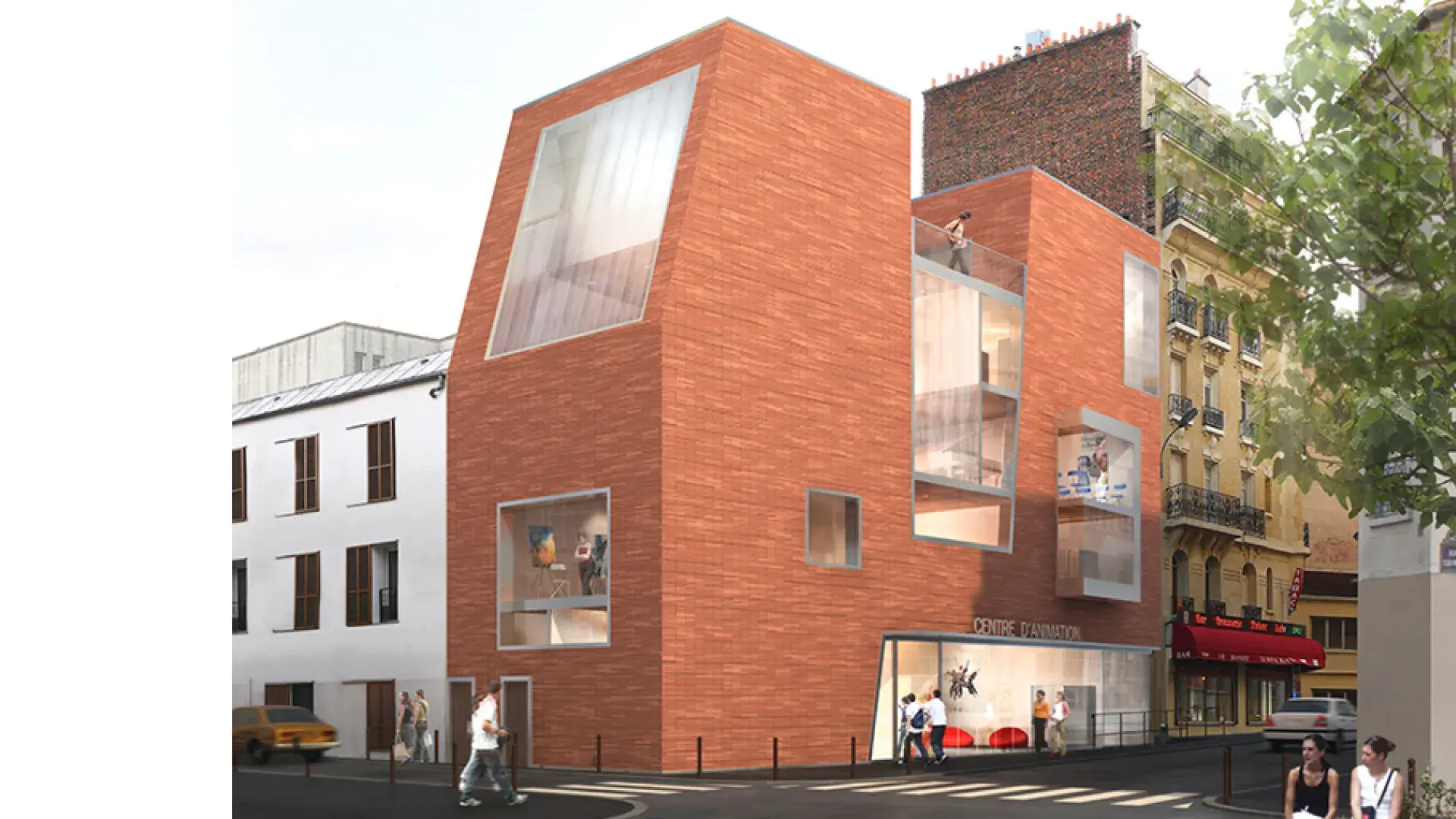 Animation center
Commissioned by : Ville de Paris
Architect(s) : Atela Architectes
Engineers : CETBA
Consultants : Aïda Acoustique, Anne Lyse Leymarie (HQE)
Surface : 1 057m2
Program : Visual arts room, dance room, music room and multipurpose room
Budget : 2.5 M € (excl VAT)
Status : Competition 2010
DESCRIPTION
The objective of this local facility is to offer cultural, sports, intellectual, manual and leisure activities to the public. The aim is to participate widely in the local animation and offer activities in a federative place. It is important that the animation center asserts its presence by a volumetry and by an envelope with a radical writing conferring its singular identity.
Two important elements are to be noticed in our proposal: The waiting spaces and the circulations are as generous as possible within the constraints of the plot. The party chosen for the project allows the simultaneous operation of different spaces that are both noisy and sensitive from an acoustic point of view.
The environmental aspect of the project, linked to the architectural approach, was to propose a COMPACT building, favoring thermal inertia as much as possible, by means of solid and visible materials inside the building, in order to favor summer and winter comfort, without resorting to active cooling, which is very energy consuming. This architectural choice of a "low-tech" building also has many advantages in terms of resistance and durability, to limit the need for maintenance and upkeep of the building. Perimeter of the building with a bearing façade. Mixed with wood/concrete floor of large span. This system allows us to have large open areas and to propose a flexible program. This system also allows us to obtain an acoustic ceiling with an exposed joist appearance on the underside.